Supplier Spotlight: Girl Meets Dress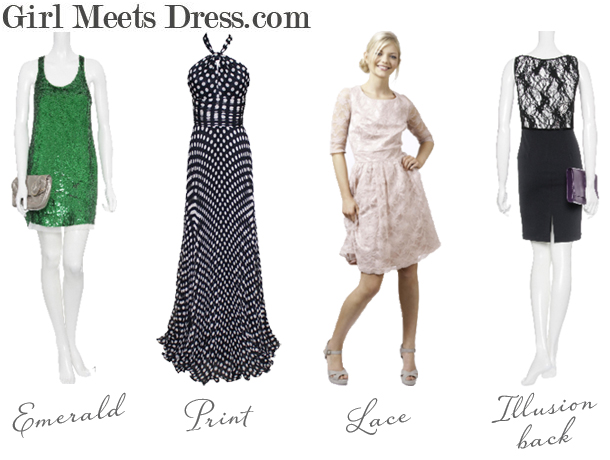 Left to right: Haute Hippie sequin mini dress; Dina Bar El Polly dress; Maids to Measure lacey dress; Opening Ceremony lace back dress
So, as wedding people, there's one thing we're always in search of. The golden goose, the chupacabra (as that chick from the Millionaire Matchmaker might say). The bridesmaid dress so fabulous that not only will it make your wedding photos look awesome, and make your girls feel like a million dollars, but that they'll WEAR AGAIN. Well, I'm just going to say this. It never happens. Now don't get me wrong, because the times I have been bridesmaid, I'm happy to say that the brides did everything they could to choose something that was recyclable and that I would be happy in. At the most recent, we had the whole mismatched dress thing going on, and I loved mine, and I actually did plan on wearing it again. Then, the next year, I had weddings to go to as a guest, and when I tried on the dress I just felt too… bridesmaidey. It's hard to explain, and maybe it has something to do with the pictures from every event we go to being all over Facebook nowadays, or maybe it's just a time thing and this summer I'll give the dress a second outing, but the fact is that no matter how well chosen, often they languish 27 Dresses style in the back of a cupboard and that's just how it is.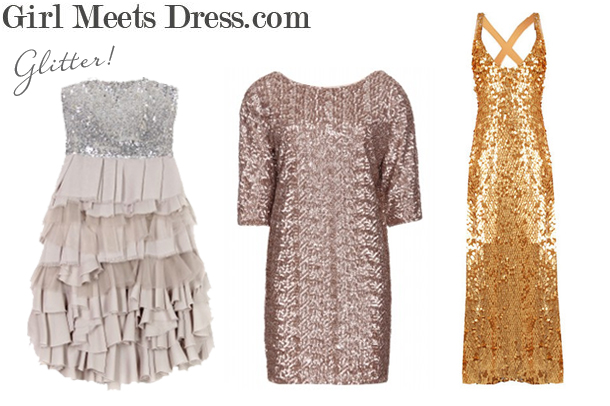 Left to right: Alice and Olivia Mei cocktail dress; Rachel Zoe Tinsley mini dress; Ruth Tarvydas Hidden Gem
So when I came across the concept of designer dress rental, I immediately thought it was the best idea ever. I mean, you can rent gorgeous frocks that are completely out of your normal budget for less than the cost of a high street dress. And yes, you don't get to keep them, but sometimes you do just want to wear something once. It's like having a big sister with a huge wardrobe who actually lets you borrow things. The big sister in this case is Girl Meets Dress, who not only have an adorable name, but a huge collection of beautiful dresses (over 4,000 from 150 designers) that gets regularly updated so it's bang on trend, and comes in sizes 6-18.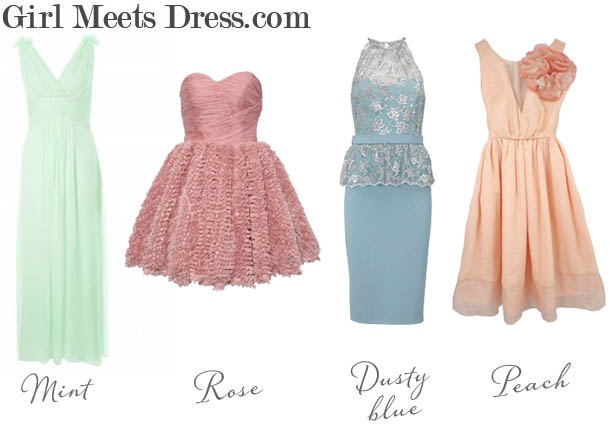 Left to right: Diva Sophia Una gown; Opulence England ruched panel ruffle dress; Ariella Andrea dress; Jasper Garvida Nina dress
The more I thought about it, the more I liked the idea for weddings too. Because if your girls aren't going to wear their dresses again, why not take the opportunity to dress them in something amazing? It's super easy – you book online up to three days before the event, you receive the dresses at your home or office, you wear them, you send them back. You can even arrange to try on a few different options and only pay for the one you use. And with rental options of either two days or seven, they're still an option for destination brides travelling out of the UK (just send them home with one of your guests if you're off on honeymoon). GMD even stock dresses by one of my favourite custom bridesmaid dress labels, Maids to Measure, who I have had the pleasure of working with in the past. GMD is also an awesome option if you want a reception dress, something for a registry office wedding, or something a bit special for your engagement party or rehearsal dinner. In fact, I can't wait to be a wedding guest again, because I am so going designer!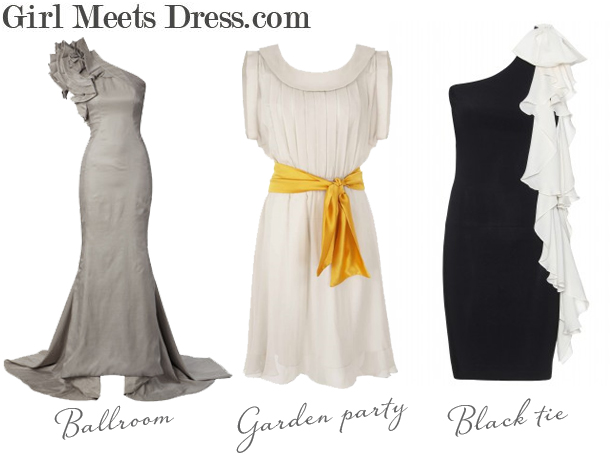 Left to right: Aurelio Costarella Venus gown; Suzannah Lawn party silk dress; Alice and Olivia Zoey ruffle dress
Contact Girl Meets DressWebsite: www.girlmeetsdress.com
Email: enquiries@girlmeetsdress.com
Phone: +44 (0) 207 746 2496