Make a Statement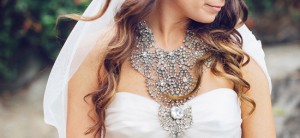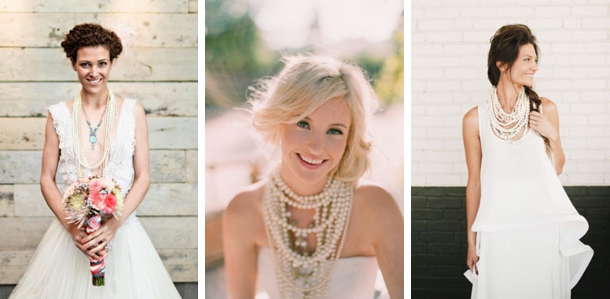 Images: Wedding Concepts/Annemari Ruthven on SBB (left); Elizabeth Messina/Stylish Silhouette/Canvas and Canopy Events via Green Wedding Shoes (centre); Kyle Hale via Green Wedding Shoes (right)
Ten years ago, if I'd been writing this blog (if blogs even existed then, which they probably didn't), I'd no doubt have been telling you ladies to style your (strapless, obvs) wedding dress with a simple pearl necklace or a diamond solitaire. Nothing too flashy, mind. And don't get me wrong – diamonds and pearls are ALWAYS a good idea. But if it was me styling my wedding dress, I have to admit that I'd probably be looking in the direction of a trend that has grown and grown among brides – the statement necklace. A few years back, my dear friend Kath rocked this herself, wearing the most gorgeous chunky creation made from various brooches and heirlooms – it looked amazing. And since then, I've seen brides in any number of bold and lovely pieces. Every time I do, it gives me a little fashion thrill. Of course, I'm a fan of statement jewellery in general, and this trend isn't for every bride, but if you're willing to take a risk, you can turn even a plain gown into a bit of a showstopper. In fact, a plain gown is often a better bet for a bit of styling – you definitely need to have a bit of balance. The other piece of advice is to make sure that whatever you're doing with your hair allows the necklace to be shown off properly – up is better but long hair down can work, though it's definitely something to check when you do your hair trial. You can go for bling, layers of pearls – even colour. Here are my most inspiring web finds.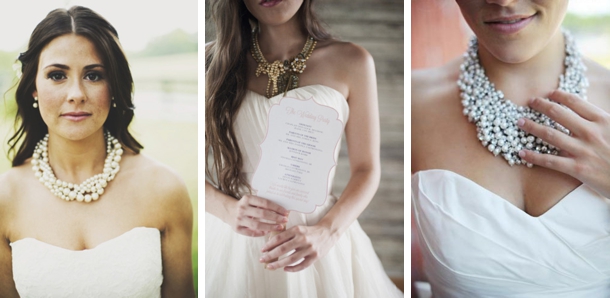 Images: Ariel Renae Photography via Ruffled (left); Christa Elyce Photography via Style Me Pretty (centre); The Last Forty Percent via 2 for couples (right)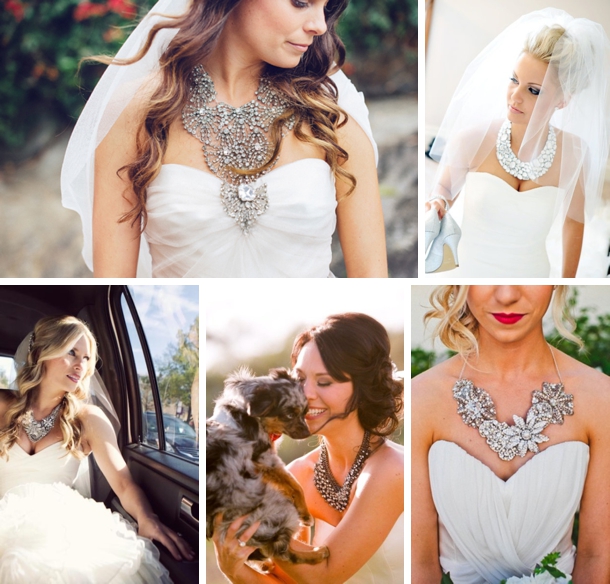 Images: Caroline from Mihaja Photography/Johanna Johnson via Polka Dot Bride (top left); Ezza Exclusive on Etsy (top right); R.E.M. Video and Photography via Style Me Pretty (bottom left); Susan Sancomb Photography/Kate Spade via Style Me Pretty (bottom centre); Hello Studios/Renee Pawele via Ruffled (bottom right)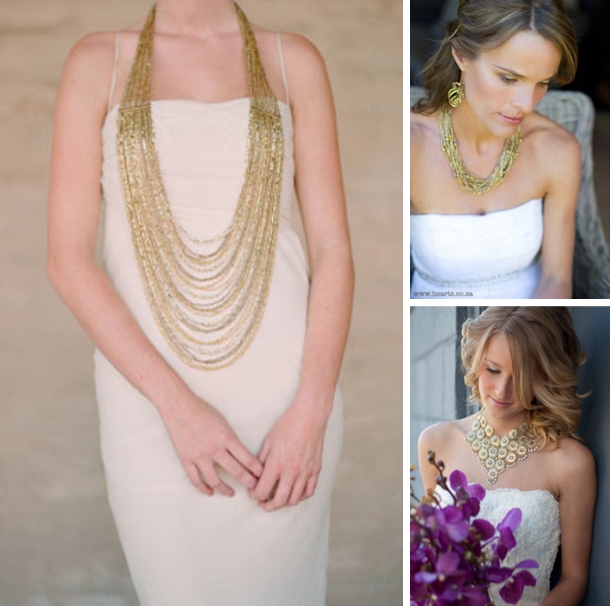 Images: Elizabeth Messina/Stylish Silhouette/Canvas and Canopy Events via Green Wedding Shoes (left); Hearts in a Shutter on SBB (top right); Robyn Michelle-Lee Photography via Wedding Obsession (bottom right)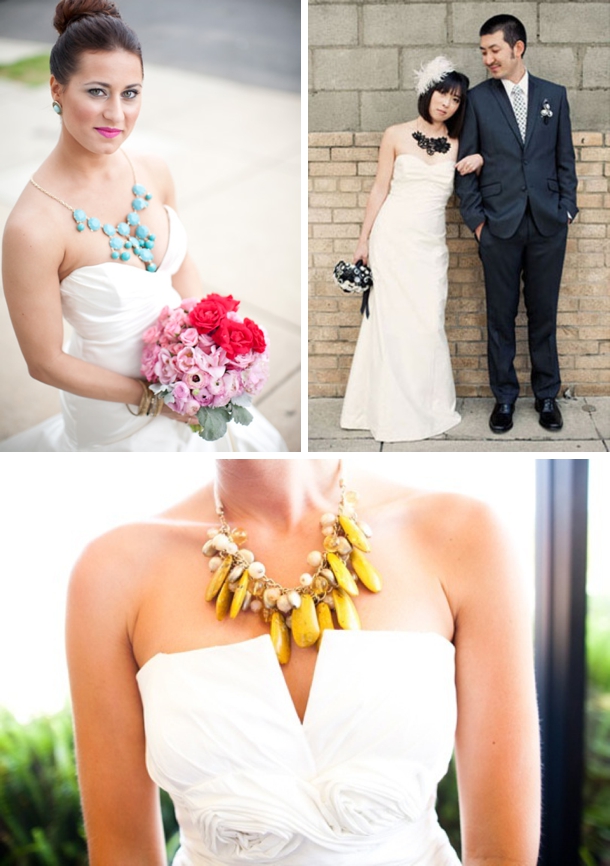 Images: Kate Triano via The Bride's Café (top left);  White Haute Photography/Ohana Photographers via Love and Lavender (top right); Aaron Shintaku Photography via La Belle Bride (bottom)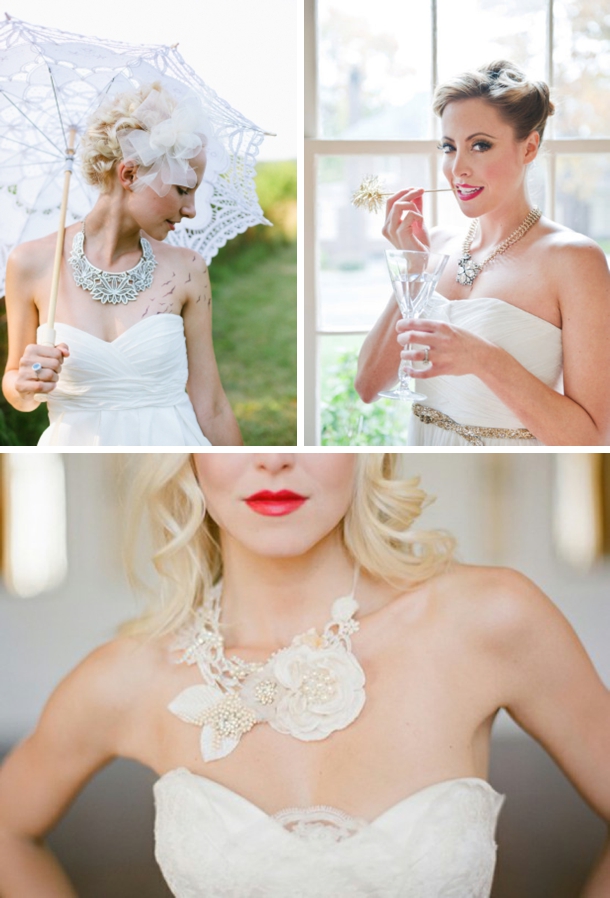 Images: Arrow & Apple/Oooh La La via Ruffled (top left); Jennifer O'Donnell Photography/J.Crew via Style Me Pretty (top right); Alicia Swedenborg/Jannie Baltzer via Pretty Chic Blog (bottom)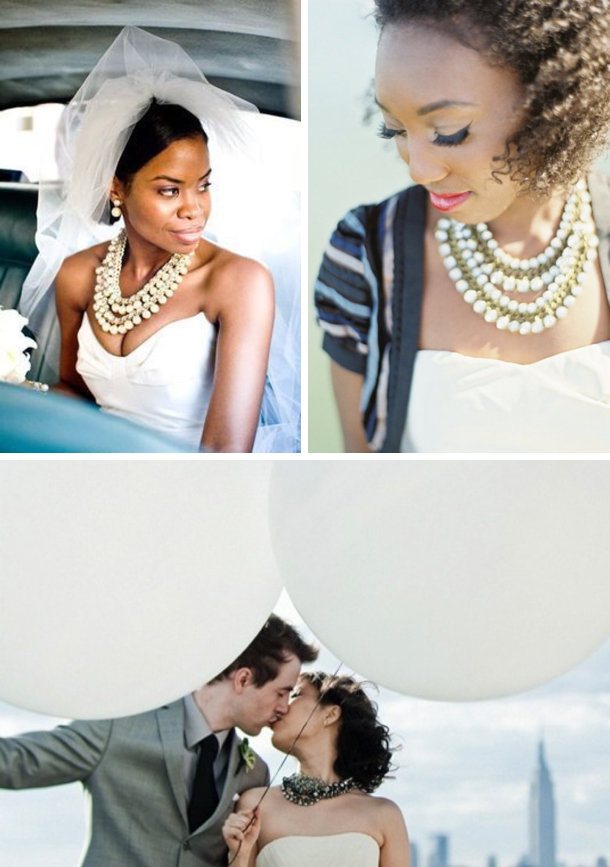 Images: Docuvitae via Style Me Pretty (top left); Erich McVey Photography/Kate Spade via Style Me Pretty (top right); Katie Osgood Photography via Merci New York (bottom)
A statement doesn't always have to be made from the front – I just adore a necklace with pretty back detailing!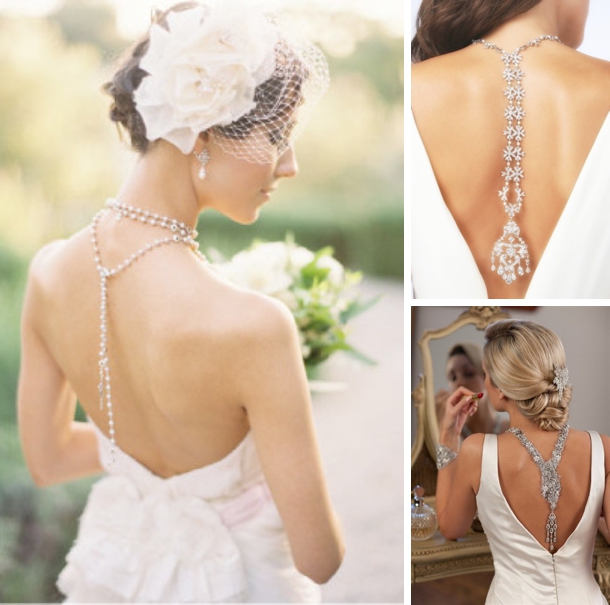 Images: Jose Villa Photography/Waxing Poetic via Style Me Pretty (left); Memphis back necklace by Leigh-Anne McCague (top right); Allan Hannah (bottom right)
Here's one thing I wish we'd see more of. In SA we have a wealth of talented craft artists, particularly beading. I'd just love to see a few more local brides wearing vibrant African necklaces!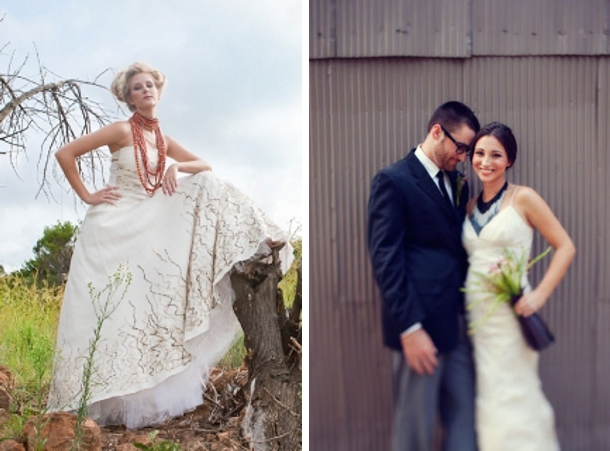 Images: Purple Apple Studios via b.loved (left); Paige Newton via Ruffled (right)