Inspiration Board: Colour Burst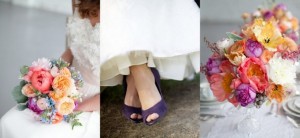 Never let it be said that I don't love my readers! I know how sometimes planning can be overwhelming (especially bringing all your ideas together as the big day approaches), so when I got a wedding 911 from SouthBound Bride Stephanie, I put together this little board for her quick sharp. Stephanie had chosen a lovely deep purple as her main colour, with beautiful bridesmaid dresses for her girls. However, Stephanie was also in love with colour and fun, but was having a tough time convincing everyone else involved with her wedding that she could be vibrant and still classic and beautiful. Her dream palette – purple combined with coral, yellow and pink – was certainly unusual, so I immediately started looking for florals in this combo. As I suggested to Stephanie, if you're working with bright colours but you want to make sure they don't become too much, the best thing to do is keep everything else simple and let the flowers really pop. Because flowers are colours from nature, they have natural tones to them, so you don't get the same hard colour block effect that you might with something synthetic. It's a softer and more classic look. Luckily I didn't have to look too long before I found the perfect inspiration shoot, and all I can say is WOW. Isn't this palette stunning? I'm such a convert. Paired with simple place settings and classic stationery, the florals really do the talking (and they say "hello, I'm gorgeous"). You'll notice there are a lot of peonies in the board – and yes, peonies are incredible, but they're also hard for a South African bride to find. However, chat to your florist about other options, as there are many lush colourful flowers (ranunculus or carnations, for example) that will do a great job here. Another tip I gave Stephanie was not to try to bring all four colours into everything – combine two here, two there, and the result is cumulative.
So, what do you think? Stunning, no? Good luck with the rest of your planning Stephanie! I'm sure it will be amazing.
Colours: Deep purple, violet, coral, yellow & pink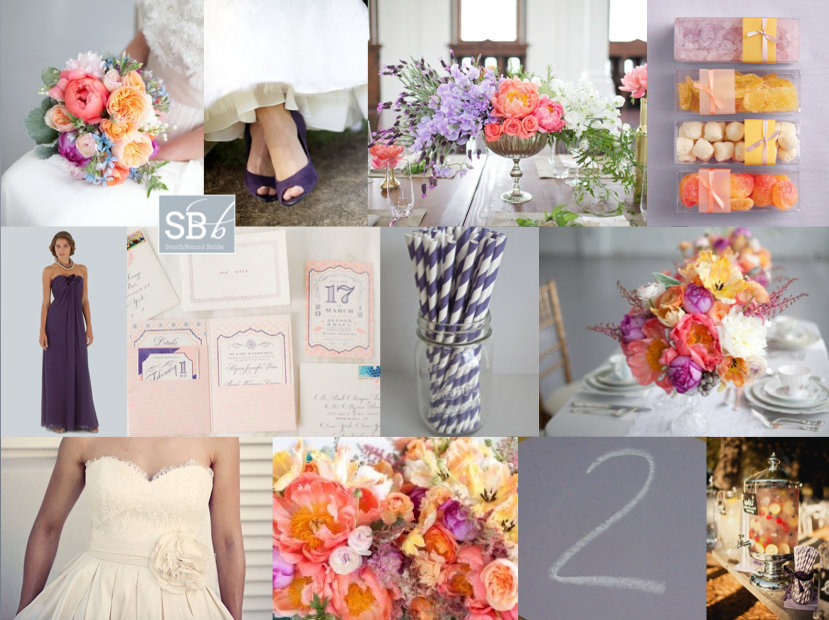 Top row (l-r): Bouquet {P: Sara Gray Photography; S: Elizabeth Anne Designs}; purple shoes {P: Simply Jessie Photography}; centrepiece {}; colourful sweet favours {Martha Stewart}
Row 2: Deep purple bridesmaid dress {Bride & Co.}; purple and coral stationery suite {P: KT Merry; D: The Right Side Design}; purple paper straws; centrepieces {P: Sara Gray Photography; S: Elizabeth Anne Designs}
Row 3: Elbeth Gillis wedding dress {P: Cari Photography; D: Elbeth Gillis}; flowers {P: Sara Gray Photography; S: Elizabeth Anne Designs}; purple chalkboard {generated by reader}; cocktail {P: Matthew Morgan; C: Tammy Mitchell}