Featured in My Wedding Day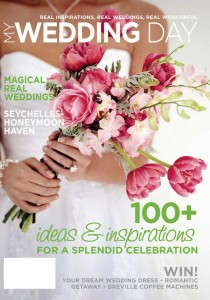 A while back you might remember me mentioning a shoot I was co-styling, loosely based on the Sparkle & Blush inspiration board I created last year and featuring the gorgeous matching Invitation Gallery stationery suite. Well, I am thrilled to announce that brides-to-be in South Africa can finally see the results in the brand new My Wedding Day, which should be out in shops next week! (Although you'll have to fight my mom for a copy if you're in Westville.) You can also read all about the amazing team of suppliers I worked with, including photographer Chanelle Segerius-Bruce and stylist Louise of b.loved Weddings, and find Louise's top tips for recreating the look or adapting it for your own wedding. We had so much fun putting it together – I just hope you love it as much as I do!
I have to say that women's magazines (particularly South African ones) are very close to my heart – I used to read my mom's stack of Fair Ladys literally from cover to cover, many times over, and in fact I wonder why I went into books instead of mags (actually, I think it was because I didn't want to write, which is ironic for a now-blogger, right?). As much as I love the online world, featuring in a South African magazine for the first time makes this little journey of mine feel more real, and I'm really quite proud and excited! Big thank you to everyone I worked with (full list below) and to the lovely Chanel over at MWD – it was a pleasure working with you and I can't wait to see a copy!
Full credits: Photography: Chanelle Segerius Bruce | Videographer: The Dreamcatchers | Styling:b.loved Weddings and Southbound Bride | Flowers: Wildabout | Dresses: Mira Zwillinger | Makeup Artist: Kaz Fernando | Hair: Severin Hubert at The Hepburn Collection | Cakes: Janet Mohapi-Banks | Hair Accessories: Debbie Carlisle | Jewellery: Olivier Laudus | Model: Chloe-Jasmine Wichello