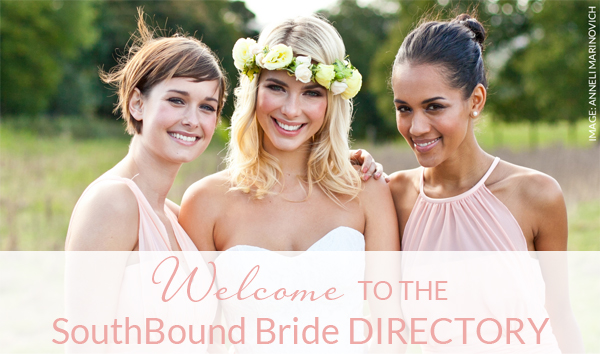 For the last few weeks, I have been working madly behind the scenes on one of my projects for 2014 – new and improved directory pages ! The Directory on SBB has been there from the beginning and included suppliers from the real weddings that have been featured, but as we've grown, I haven't always been able to keep up with them properly. I didn't feel like they were doing their job well enough. Also, while we've had featured suppliers for a while, I often felt that aside from clicking through links yourself, you didn't really have the chance to ENGAGE with those suppliers. Because you want to work with people that you like and relate to right? Not just people whose work you admire, although that too of course. I'm absolutely passionate about connecting brides and grooms with the incredible talented wedding pros in South Africa, and I started looking for a better way to do that. SO… I'm delighted to say that from today, we're rolling out the brand new directory pages. You'll notice a new design, but more importantly, you'll find a curated collection of on-the-ball service providers who are looking forward to helping make your wedding day amazing, and better still, you can spend some time getting to know them and their work.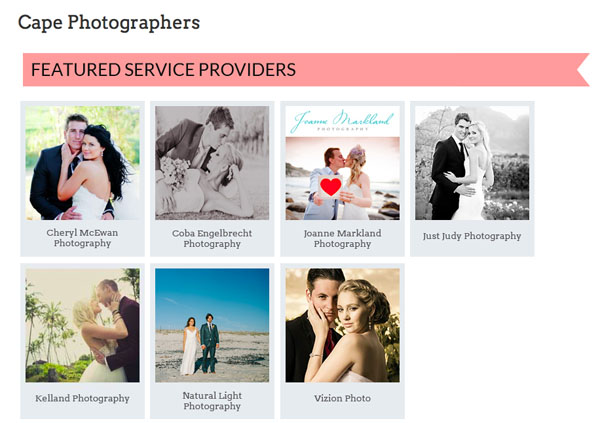 How does it work?
Navigation is much like it was before – from the main directory page you can click through to the location and category you want to see. There you'll find two sets of listings – our featured providers (think of them as the A List) at the top, and below them, even more fantastic supplier suggestions. When you click on a featured supplier, you'll be taken to their full listing, which looks like this…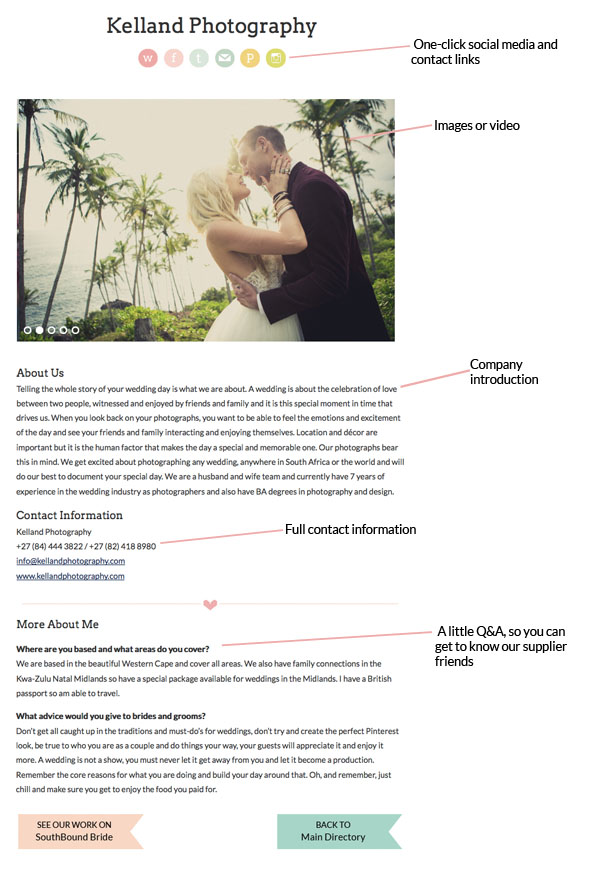 My favourite part is the little Q&A, which allows you to get to know the wedding pro, in their own words. Another feature of the new directory is that we're highlighting portfolios – most of our featured service providers have been on SBB before, and it's now SUPER easy to click through and have a look at the weddings and other features that have included their work. You'll also be seeing little portfolio buttons pop up in our wedding features, that will also take you straight to each supplier's SBB portfolio with one click, like this one:

Why are there only service providers from the Cape and Gauteng listed?
SBB is for ALL South African brides and grooms – as I mentioned, this is a soft roll out, so we'll be adding in the other provinces and suppliers very soon as those sections are completed. If you're a vendor in another part of the country and you'd like to be listed, do get in touch!
I'm a wedding pro. How do I get listed?
Whether you were on the old directory listing pages or not, we'd love to hear from you! You'll need to get in touch with us to re-register for the new and improved directory. Email [email protected] for details and prices.
Over the next few days, we'll be giving big shoutouts and welcomes to the awesome service providers who have joined SBB's Directory so far, so look out for them on Facebook and Twitter. In the meantime, click here to see the new directory so far!