1950s Diner-style Engagement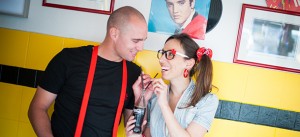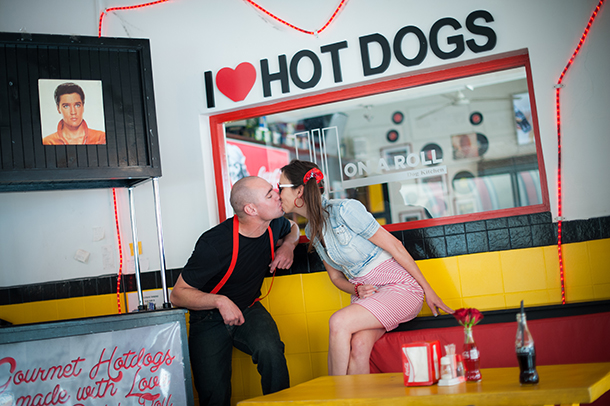 Well goodness gracious great balls of fire, do we have a bit of retro fun to share with you this afternoon! I love it when a couple is playful with their e-shoot, and even better if they find an awesome location to inspire. For Zerina and Hano, that location was On a Roll, a gourmet hotdog restaurant in Cape Town with a 1950s diner vibe. The couple decided to dress up accordingly, sharing some happy moments while photographer Carmen Visser snapped away, resulting in a set of colourful, fun pics that I'm so happy to share with you today. And, since it's their wedding this coming weekend, to wish them a wonderful celebration! (Oh, and PS – On a Roll do food vans, which I think would make an AWESOME wedding snack!)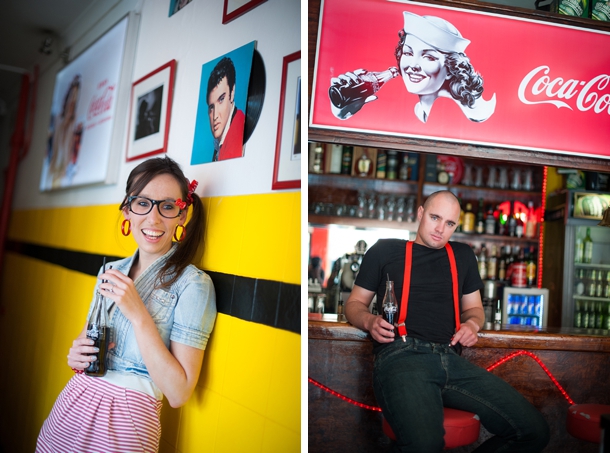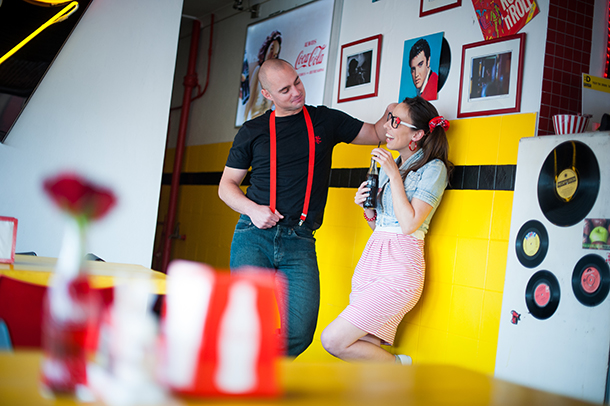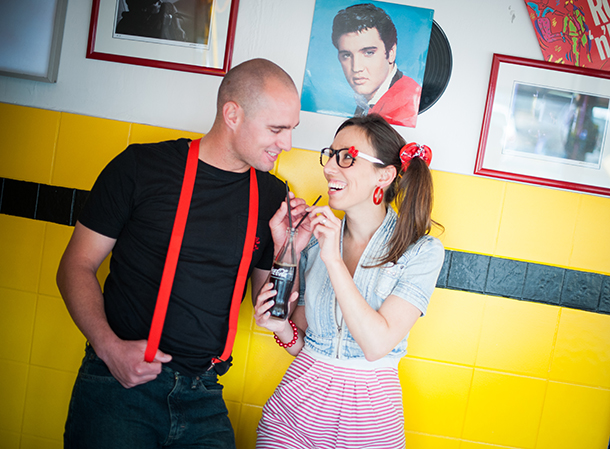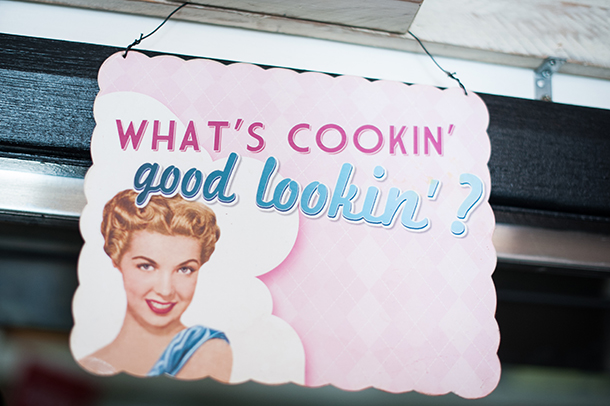 Carmen also sent over some background info from the couple:
We met at work – I taught Grade 3 and he joined our school as the new Phys. Ed. teacher. We clicked oh-so-automatically and quickly became good friends. Quirky laughter became long talks… his joys became my joys, his tears became mine. He moved to the USA with an open-ended plan, and the absence made us both realise that we couldn't do without one another. We ran up some pricey calls – one in particular was really irritating because of that long distance echo. I was so into our conversation that I even tried to ignore a knock at my door. The echo grew louder, and I realised that it was no echo, but the man I wanted to spend the rest of my life with, standing on my doorstep!
Around Christmas we flew to Johannesburg to spend the holidays on a beautifully green estate. Relaxed vibes, good books, warm thunderstorms, sipping cappuccinos, spa treatments and walks on the greens really set the perfect scene. Then, on Christmas Day, around the dinner table with his family, we began talking about everyone's inspirations and aspirations for life. When it was Hano's turn, he got onto one knee and proposed!